Colorimetric assay
Dosage quantitatif de la protéine C fonctionnelle dans le plasma humain citraté par méthode chromogénique en hémostase.
Le coffret TECHNOCHROM® Protein C permet le dosage fonctionnel en colorimétrie de la protéine C (PC) plasmatique par méthode amidolytique, selon un principe d'activation spécifique de la PC par un venin de serpent (Agkistrodon contortrix) : le PROTAC®. La protéine C ainsi activée hydrolyse un substrat chromogène. La quantité de para-nitroaniline libérée lors de cette hydrolyse est mesurée à 405 nm et est proportionnelle à la concentration de protéine C présente dans le milieu réactionnel.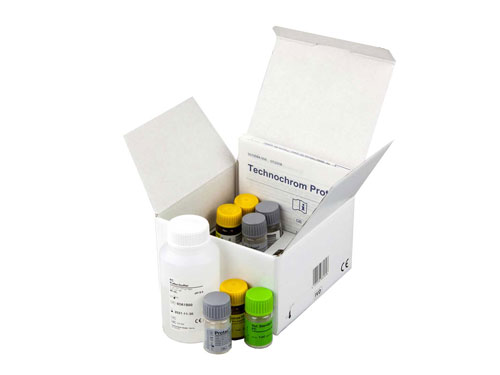 | Reference | Presentation | Number of tests | |
| --- | --- | --- | --- |
| 4-5341013 | Kit | 30 à 60 | |
The Safety Data Sheets and Notices are accessible to our registered customers.