C1-esterase chromogenic substrate
Specific synthetic chromogenic substrate for the measurement of the C1-esterase activity in plasma, used for the determination of C1 INH : equivalent Pefachrome® C1E.
The chromogenic peptides are also used in quality control of pharmaceutical and other preparations.
As we are manufacturer, we can supply you from milligram to gram.
Peptide sequence : CH₃CO-Lys(Cbo)-Gly-Arg-pNA, AcOH
Chemical structure : C₃₂H₄₅N₉O₁₀, AcOH
Chemical name : Methylcarbonyl-lysyl(ε-benzyloxycarbonyl)-glycyl-arginine-paranitroaniline monoacetate
Molecular Weight : With AcOH = 715,8 g/mol - without AcOH = 655,7 g/mol
Km : 23.1 µM
pNA free ≤ 0.5 %
Purity grade ≥ 95 %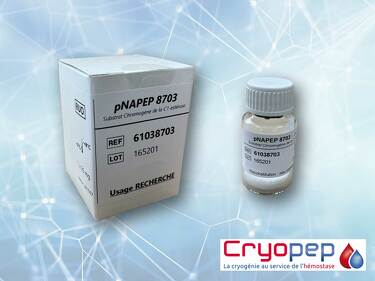 | | |
| --- | --- |
| Reference | 61038703 |
| Presentation | Vial |
| Format | 1 x 25 mg |
| M.S.D.S | |
| Stress | |
| Insert (s) | |
| Quote | |
| Reference | Presentation | Format | Quote | Product sheet |
| --- | --- | --- | --- | --- |
| 61038703 | Vial | 1 x 25 mg | | |
| Reference | M.S.D.S | Stress | Insert (s) |
| --- | --- | --- | --- |
| 61038703 | | | |