FXa chromogenic substrate
Specific synthetic chromogenic substrate for the measurement of FXa activity in plasma, also sensitive to trypsin : equivalent CHROMOGENIX S-2765™. pNAPEP-1065 is suitable for measuring FXa inhibition in heparin anti-FXa assays and antithrombin anti-FXa assays. The chromogenic peptides are also used in quality control of pharmaceutical and other preparations.
As we are manufacturer, we can supply you from milligram to gram.
Peptide sequence : Z-(D)-Arg-Gly-Arg-pNA, 2HCl
Chemical structure : C₂₈H₃₉N₁₁O₇, 2HCl
Chemical structure : N-α-benzyloxycarbonyl-D-arginyl-L-glycyl-L-arginine-paranitroaniline dichloride
Molecular Weight (+2HCl) : 714.60 g/mol
CAS : 113711-77-6
Km : 0.1mM - pNA free ≤ 0.5 % - Purity grade ≥ 95 %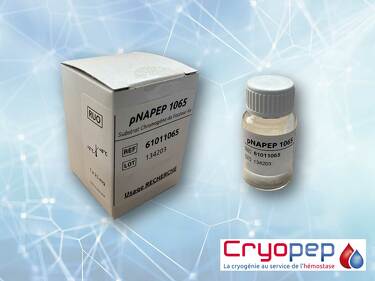 | | |
| --- | --- |
| Reference | 61011065 |
| Presentation | Vial |
| Format | 1 x 25 mg |
| M.S.D.S | |
| Stress | |
| Insert (s) | |
| Quote | |
| Reference | Presentation | Format | Quote | Product sheet |
| --- | --- | --- | --- | --- |
| 61011065 | Vial | 1 x 25 mg | | |
| Reference | M.S.D.S | Stress | Insert (s) |
| --- | --- | --- | --- |
| 61011065 | | | |