CRYOcheck™ Factor VIII Inhibitor Kit
New







Fresh frozen plasmas
This kit, intended for use in the clinical laboratory, serves to standardize the preparation of samples for the assay of inhibitors by the modified Bethesda-Nijmegen method. This kit is the ideal solution for laboratories wishing to use standardized sample preparations in order to limit the variability of anti-FVIII antibody assays.
The kit provides imidazole buffered plasma, imidazole buffer, and negative and positive controls that improve the repeatability and repoducibility of the assay method.
This kit must be associated with a measurement of the activity of Factor VIII by chronometric method on citrated human plasma.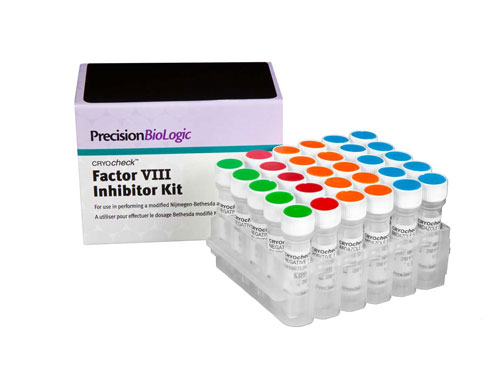 | Reference | Presentation | Number of tests | |
| --- | --- | --- | --- |
| CCIK08 | Kit | 5 Sets | |
The Safety Data Sheets and Notices are accessible to our registered customers.