Chronometric assay
Dosage de la résistance à la protéine C activée par méthode coagulante.
Le coffret APC Resistance Kit est un test de coagulation plasmatique fonctionnel qui diffère des autres tests fonctionnels de résistance à l'APC en agissant spécifiquement au niveau du complexe de prothrombinase.
Il est basé sur un activateur de prothrombine FV-dépendant, isolé de venin de serpent.
La force et la spécificité du test sont améliorées par l'élimination des éventuelles perturbations par des facteurs en amont de la cascade de coagulation et de l'indépendance au calcium.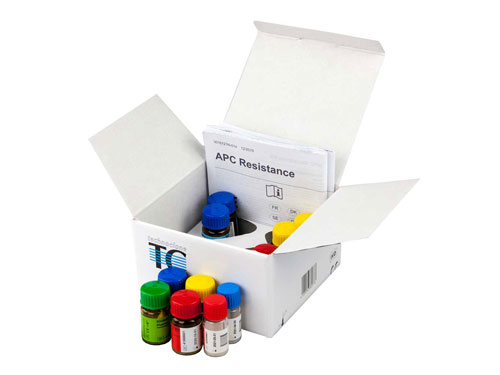 | Reference | Presentation | Number of tests | |
| --- | --- | --- | --- |
| 4-5344510 | Kit | 3 x 40 | |
The Safety Data Sheets and Notices are accessible to our registered customers.